This weekend is a tour around the island city of Singapore. I guess I have been overseas too long the last few years and need to conduct a tour myself around my home country. :-P I have to admit that for citizens living in their home country, they will be less incline to explore the sights in there. The reason being, it's going to be there forever and we can visit anytime, and thus the procrastination begins.
Just nice I have a few Japanese colleagues (friends) in Singapore and I happily volunteer to be their local guide for the weekend. When it comes to having fun, I will always be there. :-)
I started planning on Friday afternoon and drawn up a plan shown in the map below:
0) 10am rendezvous at
Concorde Hotel
1) Take a taxi to
Little India
and walk around
2) Visit
Sultan Mosque
at Arab Street
3) Lunch at Soup Restaurant in
Suntec City
4) Enjoy the Singapore skyline from the
Singapore Flyer
5) Pass by
Esplanade
and check out any events going on
6) Phototaking with the
Merlion
7) Walk pass Singapore's financial district and tea break at
Lau Pa Sat
8) Check out
Fullerton Hotel
, Singapore River and Raffles statue
9) View the Padang and phototaking of the
City Hall
10) Shopping at
Raffles Hotel
and appreciate the architecture
11) Dinner at
Bugis
and enjoy the Lantern Festival
E) Night Safari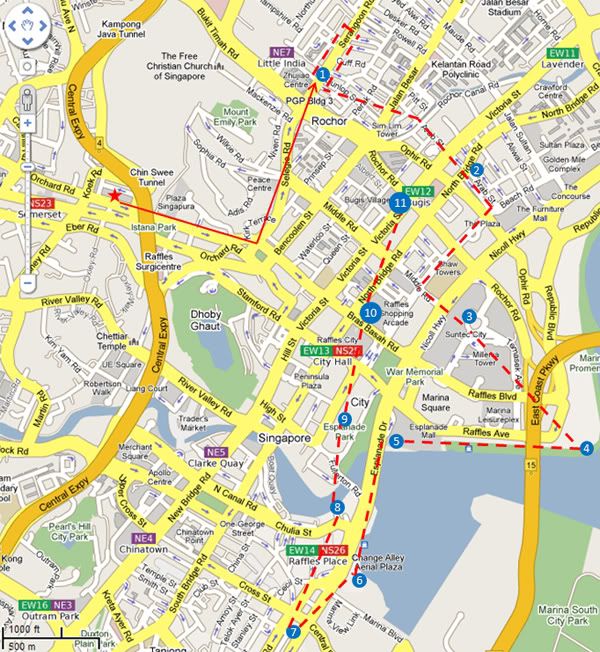 But before we begin our adventure, we have a splendid seafood dinner of Chilli Crabs and many others on Friday evening. A trip to Singapore is never complete without feasting on Singapore's original cuisine of Chilli Crab.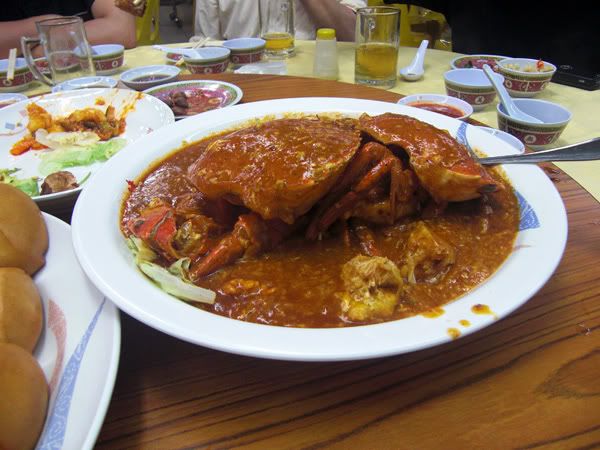 And thus we begin. The weather for the day is cloudy with occasional drizzle. It started drizzling when I met them at the hotel. Took a cab to Little India and it cost $5.80 for the trip. Thereafter begin our walk through the shops of Little India. The multi-coloured flowers are eye-catching.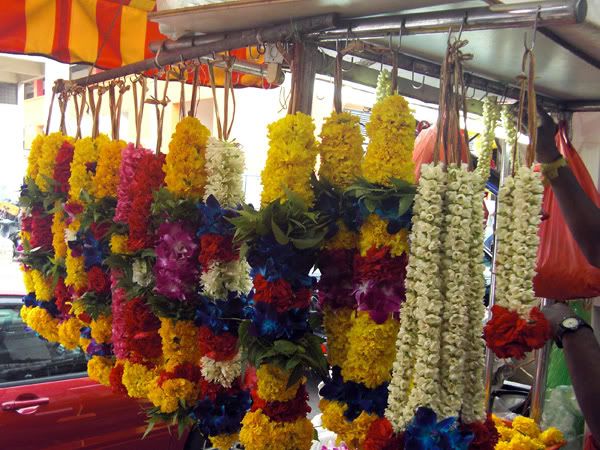 We also explored the souvenir shops a bit and is fascinated by the wide array of selection.
We also dropped by the Hindu temple right in the heart of Little India - Sri Veerama Kaliamman Temple. It is my first time entering a Hindu temple. I have always wanted to visit a Hindu temple but didn't have a chance to do it (cos my friends don't seems to be interested). It feels extremely cosy in there. I have decided not to put any photos online as a respect for the deities and gurus of the temple. It is really worth to visit if you have not visited Hindu temples before. For me, it is a big culture shock.
While walking towards Sultan Mosque, we came upon these large bags of chilli.
Here we are, Sultan Mosque in Arab Street. I didn't know this mosque is famous until FP mentioned about it and I checking up online. This image is shown on postcards and travel guides frequently (with clear blue sky).
We entered the mosque. This is also my first time in a mosque. Previously, I always have the concept that non-muslims are forbidden to enter mosques. The interior is really fascinating. It feels so quiet and peaceful. For ladies, they have to be properly dressed, if not, there will be clothings at the entrance for them to cover up.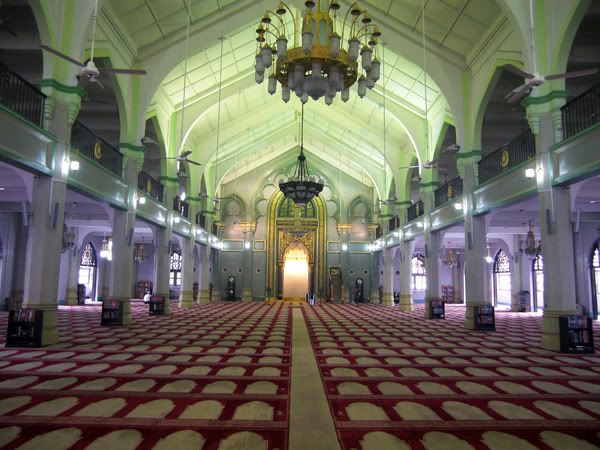 My 3 friends performing the noon Salat prayers in the mosque.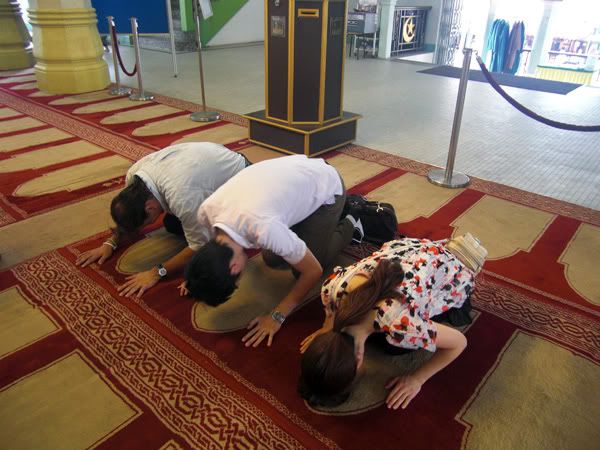 Thereafter we move on to Suntec city. It is a 15mins walk away from Arab street. We had set lunch at Soup Restaurant. It comes up to $110 for 4 people.
And off we go next to the Singapore Flyer via Millennia Walk. I got a few discount cards from the Singapore Flyer.
After Flyer, it is off to the Esplanade where there is some performance in celebration of Children's Day.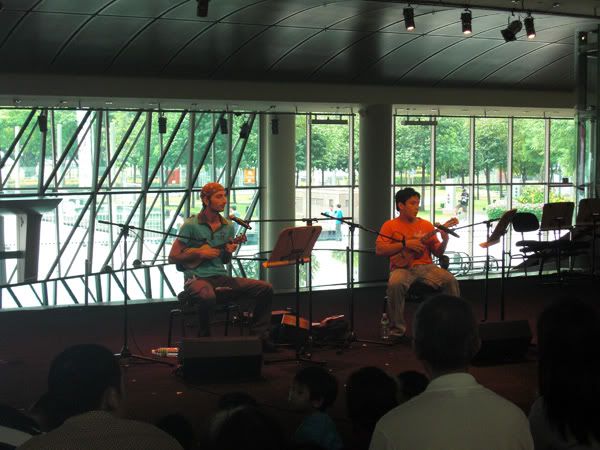 The main icon of Singapore, the Merlion. From left we have Ikawa-san, Ogawa-san, me and Okamura-san.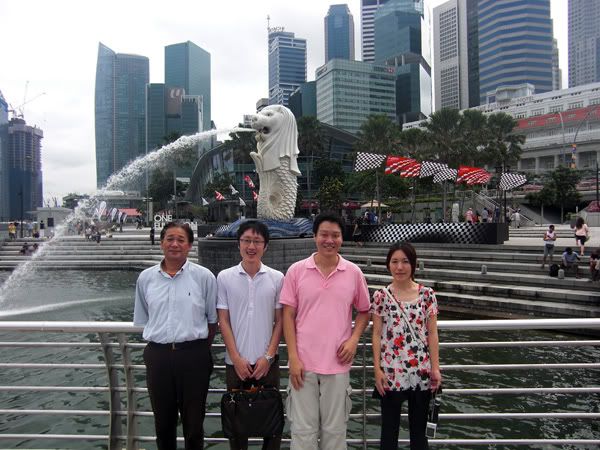 Okamura-san and Ogawa-san sizing up for a humorous picture pose with the merlion.
Thereafter we moved on to Lau Pa Sat for tea break. Over there I introduced to them Rojak. And off we go back to the Singapore river with Fullerton Hotel in the background.
There are many statues depicting life of Singapore back in the colonial times, and here are my friends posing with them.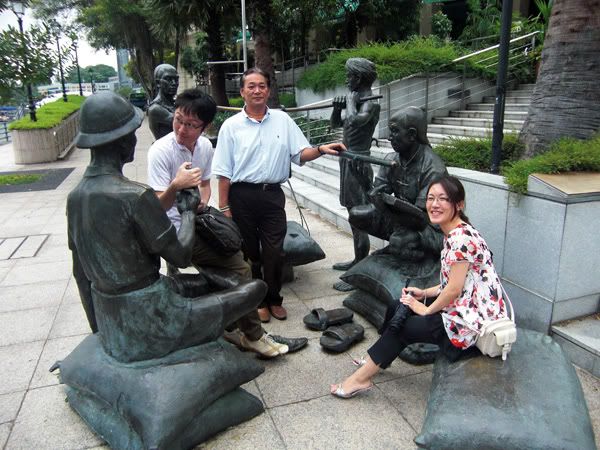 We moved on to the City Hall where this is a popular graduation and wedding photoshoot background. Here we have Okamura-san posing with this famous background.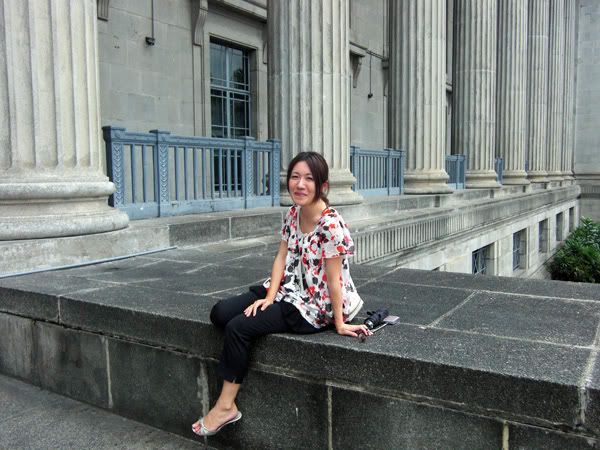 The entrance to the Raffles Hotel.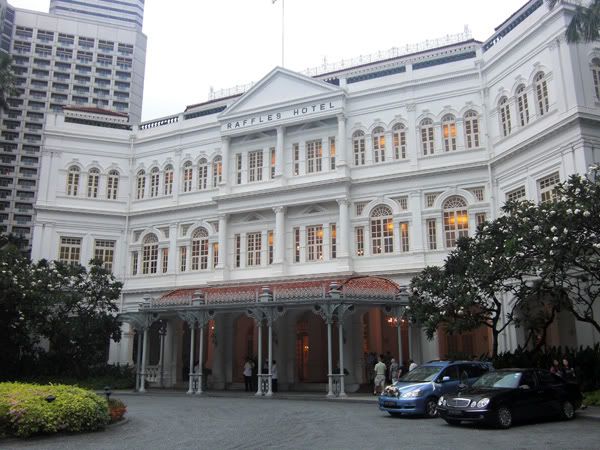 For dinner, we went down to Nanxiang Steamed Bun Restaurant in Bugis. After a long day out, cheers to everyone!!
Dinner comes up to $120 (with $40) on beer. After dinner, we noticed there is some singer signing autographs.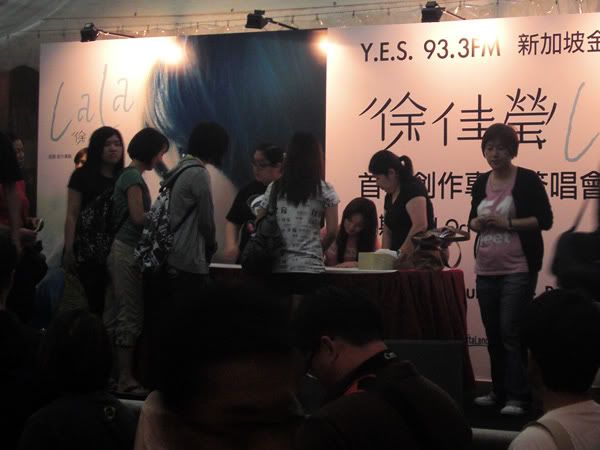 While walking towards Waterloo, we noticed this funny fruit setup.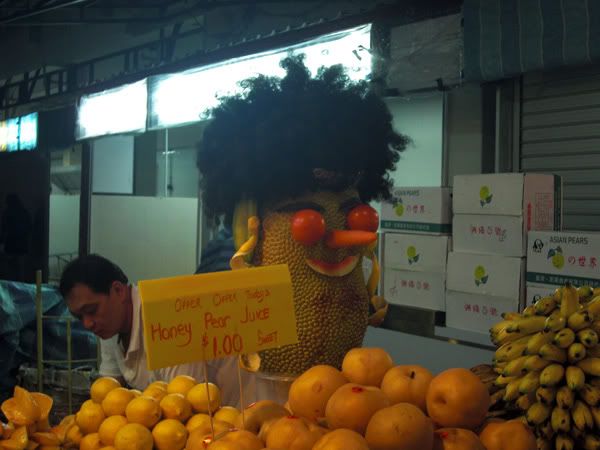 It is the 15th night of the lunar calendar and now is the time to carry lanterns and eat mooncakes. I bought for them some lanterns with the word '福' on it. We like it cos it reminds us of our company.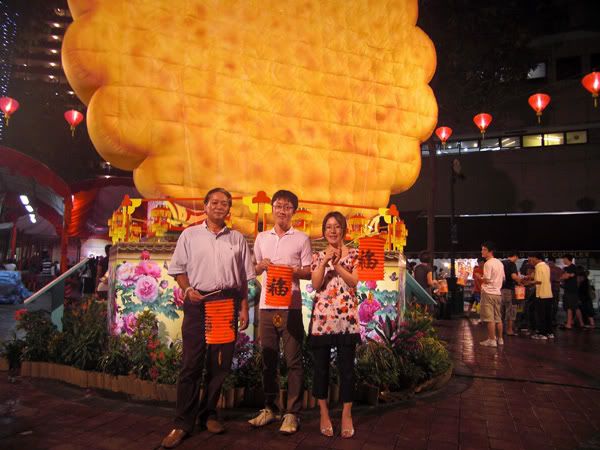 From there, we hop on the cab and onwards to Night Safari. There is a halloween special this month. Ogawa-san is interested in the halloween tram while Okamura-san is against it. And the outcome is: No halloween tram. Cos there is some slight drizzle, as such, the tram is cancelled. The 'ghosts' are all outside the Night Safari frightening visitors.
Before going back, I caught a short 5mins performance. We walked a total of 26k steps today based on a counter device carried by Okamura-san.