19th May 2010 (Wednesday) - Day trip to Penang
On this day, I am flying off to Penang for a day business trip. The last time I was there for a day trip was about 6 months back. I have stayed in Penang for 4 months last year and love Penang cos of their friendly people, nice food, low cost of living and beautiful environment. Was seriously considering getting a house there.
I departed Changi Airport Terminal 2 at 8.05am. There was a slight drizzle and the sky is slightly downcast. All the photos for this trip is taken using my iPhone except for the group photo. Here is the scene after take-off. It is beautiful indeed with streams of line piercing through the clouds.
The plane went above the clouds and we caught the sunlight again.
40minutes into the trip, the plane went into descend mode. I remembered capturing the mythical Malaya image last year and here is another one again. This region is indeed a great place to live. It is famous for its abundant agricultural products as it has little temperature variation with long hours of sunlight and rainfall. But with globalisation and economic expansion, we may miss out on the beautiful nature around us.
After the business meeting, the managers there gave us a splendid treat for lunch! I love Penang food the most. When I got there in the morning, the reception lady said that I have slimmed down a lot. It is true as I have been moving around a lot these few weeks and most important I don't feast on great food daily (we used to take seafood everyday in Penang. :S)
We got back after lunch and have 30mins to catch up with fellow friends. I informed Ah Chin that I will be dropping by today (hopefully they don't go on leaves) and they actually prepared a large bag of local specialty for us. So sweet! I also got my gifts ready too, each time I visit them, I also splurge on gifts.
12th May (Wednesday) - Day trip to Batam
It is my first time going to Batam. I just found out the island opposite where I stay in east coast is Batam. I thought it was Bintan all along. After 29 years of looking at it from opposite, I am finally landing on the island.
Had a bit of adventure at the customs. As I am on a business trip, I will have to apply for the Visa on Arrival which cost US$25. The next time I will go there will be on a tourist visa and I will wear my tourist cap and Hawaiian shirt (before transforming into business suit in the car).
It is also my first time departing from the Harbour Front Ferry Terminal where we took the Batam Fast ferry. It cost S$80 for the return trip. The boat ride will take 1 hour.
There is the air-con area and the sea-breeze area in the ferry. I sat in the air-con section for 5mins before moving up permanently to the sea-breeze area. It's a bit hot but with the sea breeze coming in, the temperature is kept at a more acceptable feel. After taking a 30mins nap, I felt a great sense of peace with the sun, the sea and the breeze. I recalled watching a documentary of Singapore in the 50s-60s. Back in those days, lives were much simpler and there were people living on the boats. The feeling is almost similar to that now.
I walked around and took a shot of the receding waves when the ferry cut through the sea.
After the business meeting, we had lunch at a local restaurant. This place is recommended by the taxi driver.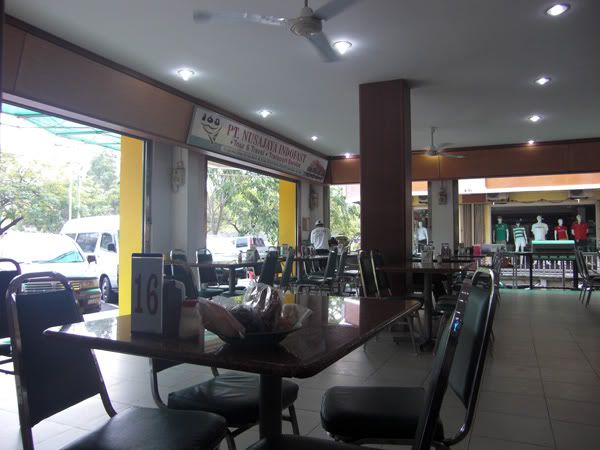 It's fabulous! Really want to try it again.
And also my favourite - Otak!! We ordered 20 pieces in all.
We took the ferry back and there was a slight drizzle. The sun was slightly shrouded by the gray sky but it will occasionally break through and cast its rays down onto the quiet sea.
The evening sky against the busy port of Singapore.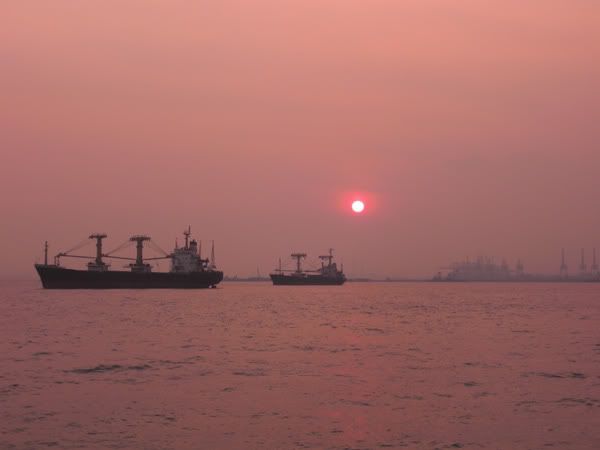 And finally we arrived back to the terminal. Here we have the massive Star Cruises ferry berth at the Harbour Front terminal. Had an interesting chat with a taxi driver lately on the suicide rates amongst casinos. He said for cruises with casinos, the suicide rates are actually quite high. Normally it is classified as man overboard and to the government, they have left their country and into international waters, so they will be recognized as missing overseas.