We departed from Changi Airport Terminal 1 at 6.40am towards Hong Kong International Airport. As the departure time coincides with sunrise, I chose a eastward-facing window seat so I can snap photos of sunrise. I selected the middle portion of the plane for easy alighting but upon boarding, I realized the wings are also situated in the middle of the plane.
Luckily, the plane made several right turns, permitting me to take beautiful shots of the sunrise while it is turning. Below are the photos I have taken of the sunrise.
Here is a shot taken shortly after departure. The sky is slowly lightening up from dark shades of blue to the lighter shades.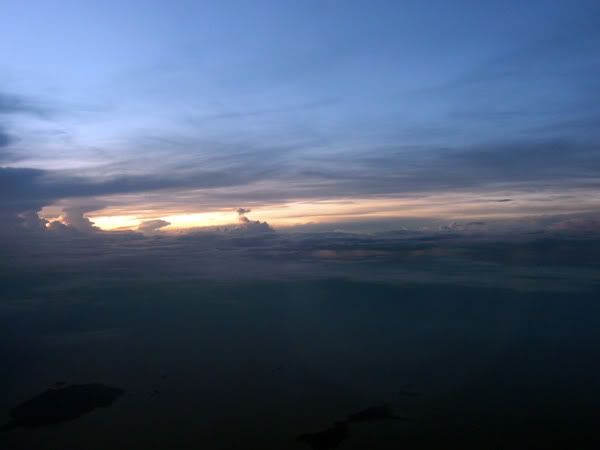 30mins into departure, the sun pierces through the clouds, giving the entire area a golden illumination.
We arrived at Hong Kong International Airport at 10.15am. From there, we hired a limousine (private car) to fetch us to the Shenzhen hotel. It cost only HK180 per person. Here is the view from the car travelling through one of Hong Kong's famous bridges.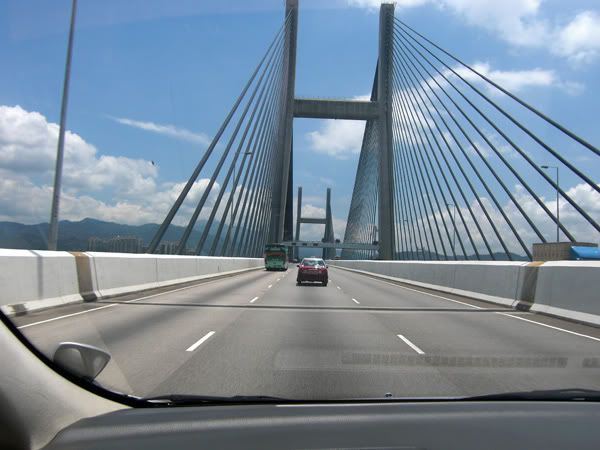 We will be staying in Shenzhen's Golden Central Hotel (深圳金中环酒店) for the next 3 nights. Here is how my room looks like.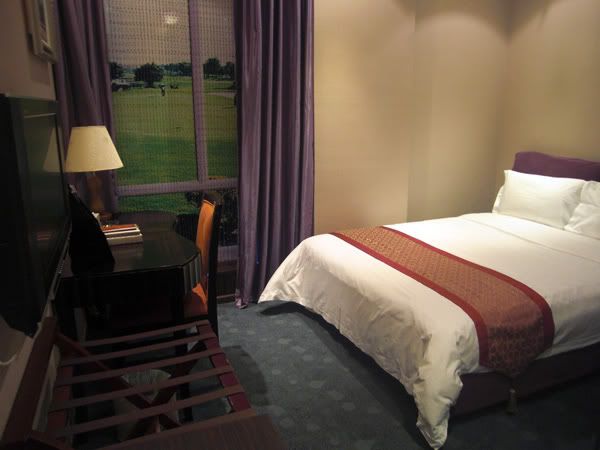 Exhibition
We proceeded onto Shenzhen Convention and Exhibition Center (深圳会展中心) next. This is where we will be at for these two days. It is amazingly large, far larger than Singapore Expo.
There is a China Watch Fair going on.
With many big names in there. As we are from overseas, we received a special VIP pass to get in.
Here we have the ultra-modern looking Casio booth.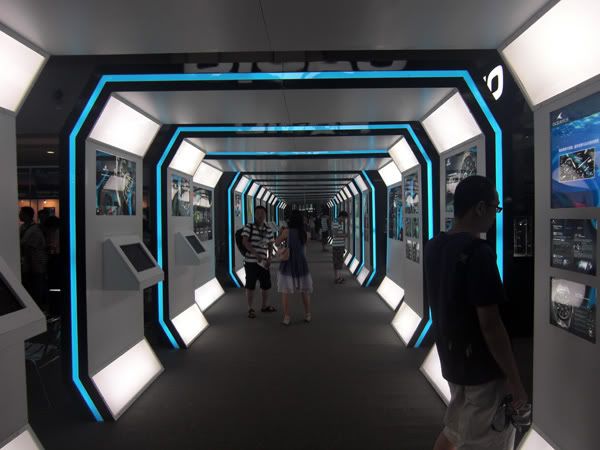 Traditionally looking clocks.
Clocks for kids.
Many wall clocks of different sizes.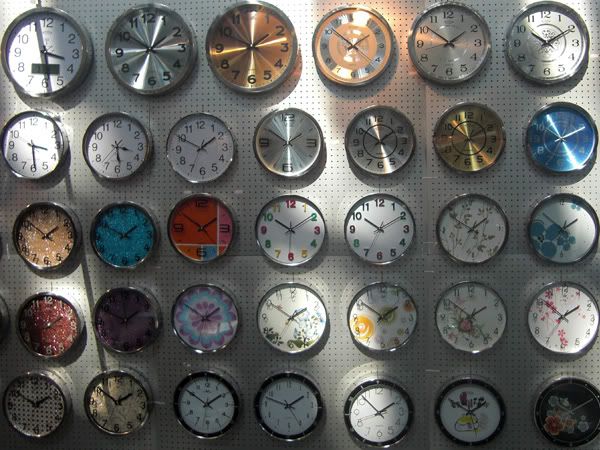 For such a big event, there will be models posing with watches.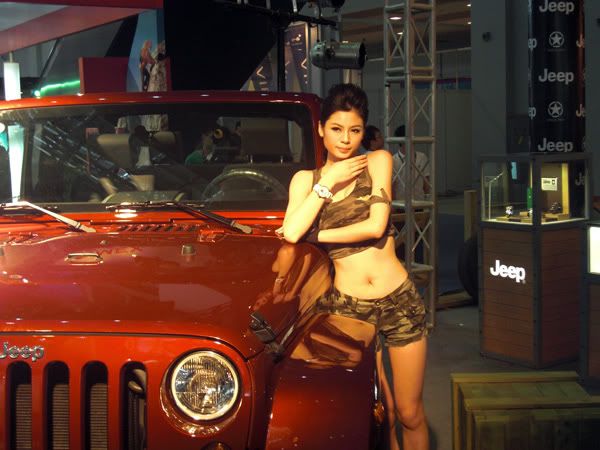 And more exquisite watches.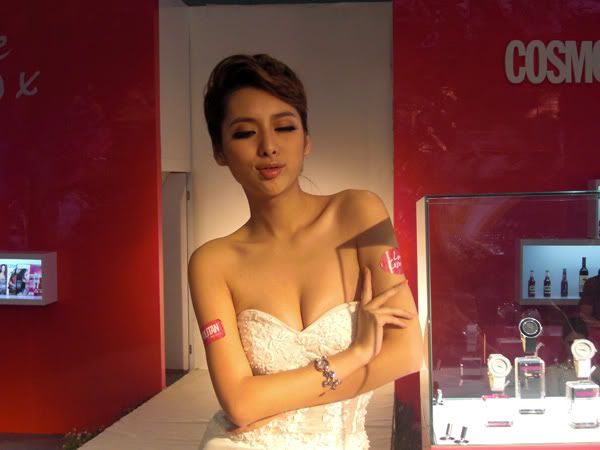 Dinner Time
The only time we have available is during the evening where we go around the city looking for good places to have dinner.
While walking along Fu Min (福民路) Road, we came upon a KFC delivery area. They use bicycles for delivery.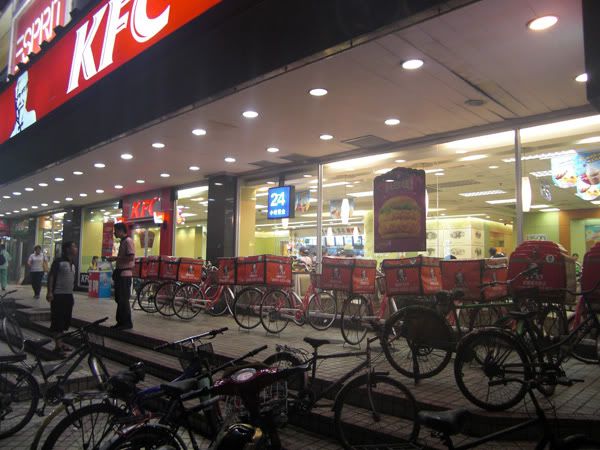 There is this chain stall which I heard from Master Cheng that is all over the city and is pretty famous. It is call 真功夫. There is a picture of Bruce Lee in each of their shops.
I don't think the staffs know Kungfu. But I guess the original owner of the chain stores love Bruce Lee. It is actually chinese fast food and the prices average RMB15 to RMB25 per set meal. The portions are large and it is just nice for me.
At the tables are stickers, I think this is why it is called Real Kungfu~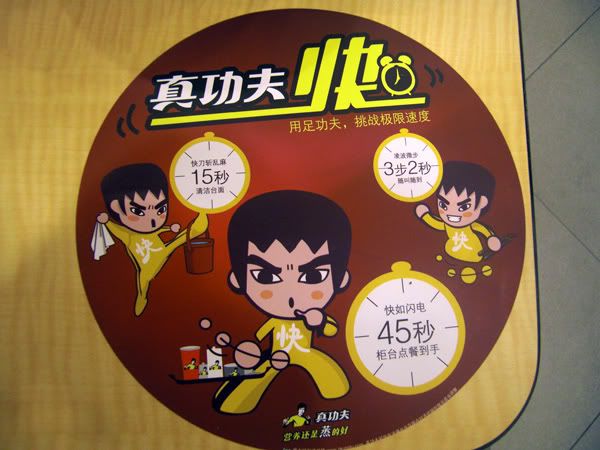 This is a set meal I have ordered.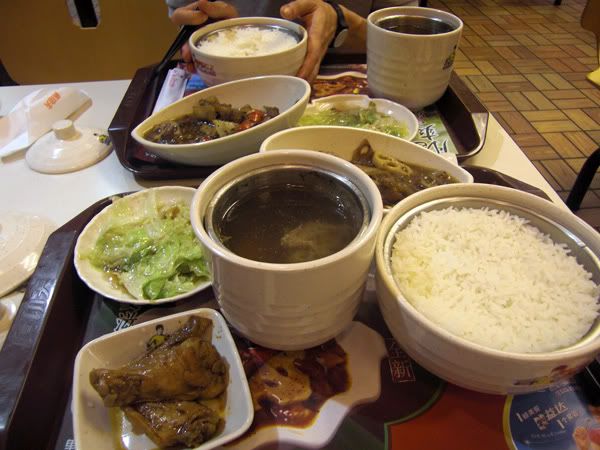 Shopping
At every MTR station (subway, metro), there is a locality map. It shows all the buildings from an isometric view, giving the area a 3-D feel. I think AJ will like this map since it feels 3D.
This is the Shenzhen Stock Exchange and a large bookstore nearby.
We had a funny encounter at this underpass. We were at exit 6 and is trying to get across the road to exit 3 or 4. We didn't know there were so many exits and had a long climb down exit 6. We turned right at the first junction and upon exiting, we realized we were back to the same place!! It's pretty funny. Thereafter we got back down and try to make our way across.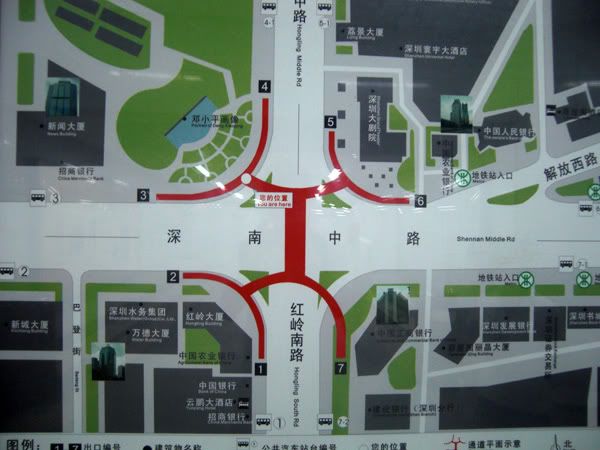 This junction is just next to Shenzhen Grand Theater (大剧院), directly in front of Deng Xiaoping Memorial Park.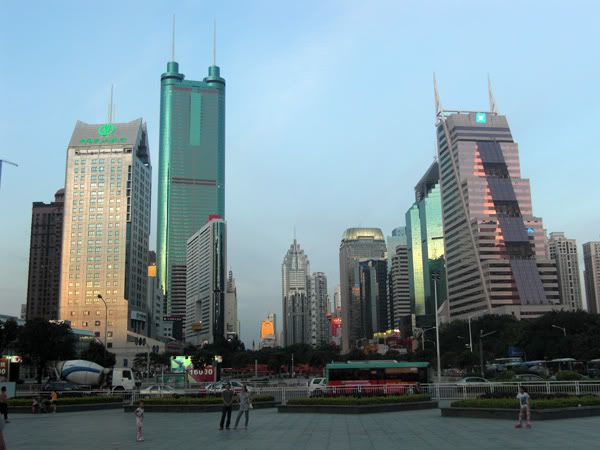 Here I am with Mr Deng in the background.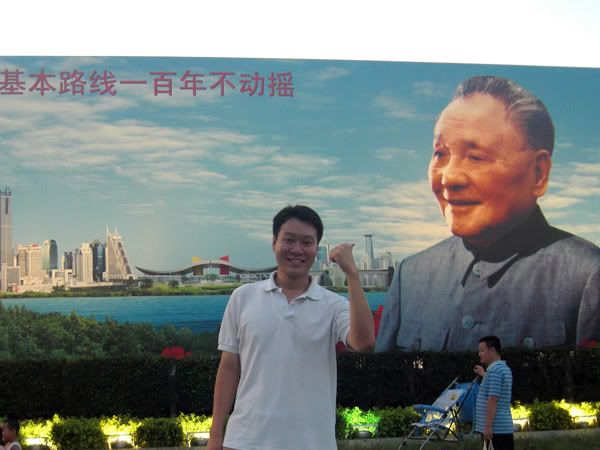 We stumbled upon a lake just next to the memorial park. It looks so beautiful in the evening. It is called Lihu Lake (荔湖).
Thereafter, we decided to check out Lao Jie (老街) and the shops around. This area is famous for shopping and where youths hang out - Dong Men Zhong Lu (东门中路).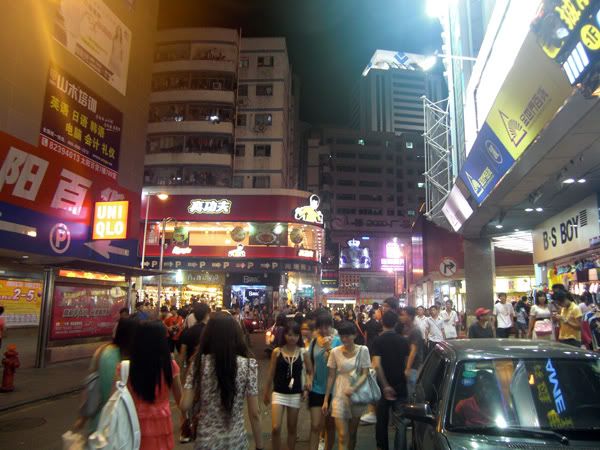 According to Master Cheng, the first McDonalds in China is actually found here (below).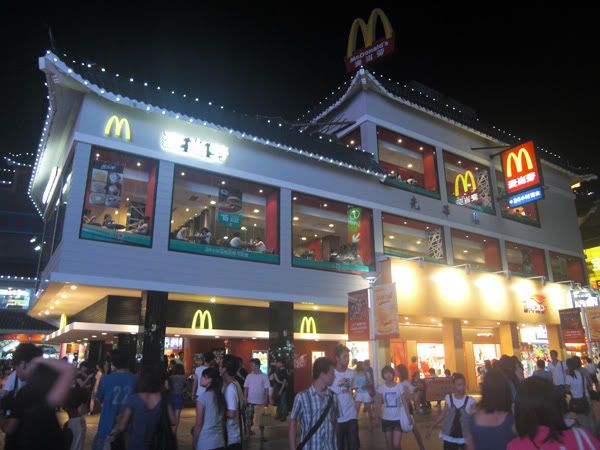 On the sunday evening, we dropped by the electronics street of Shenzhen which is at Hua Qiang Lu (华强路).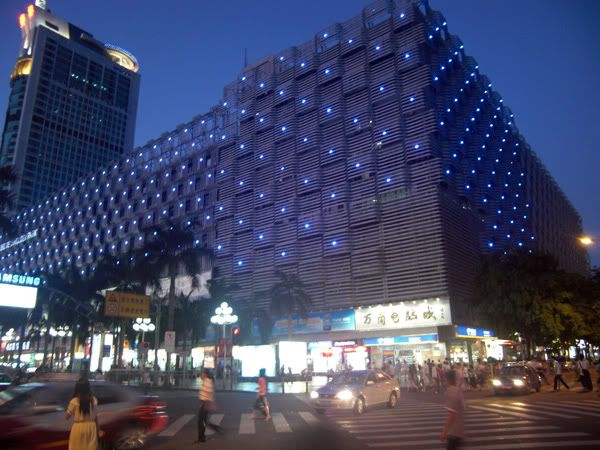 There are so many shops selling phone products. We bought some iPhone accessories.