I stumbled upon this retreat after reading a Dharma Drum booklet which my mum has brought back home in late-November. Since the retreat period falls onto my holiday season, it will be nice to go for a short getaway and find out more about Dharma Drum. This retreat is structured to be a perfect vacation chalet for the busy urban executive. It also gives us an insight into traditional Chinese culture and history (Buddhism has preserved Chinese culture very well) as well as an opportunity to visit our Mandarin (as one participant has shared with us, 学化文(should be 中文))
On the 31st, I rendezvous with HS at East Coast and off we go to Pu Ming Si (Poh Ming Tse - 普明寺) which is at Dunearn Road (Bukit Timah Road). I read about this place a month before on the Straits Times and has been wanting to check it out when I'm free. This temple is not your usual traditional chinese temple. It is a temple with modern architectural design. Check out the photos below and you will know.
The chinese and english name of the "temple" greets visitors as they come in from Dunearn Road.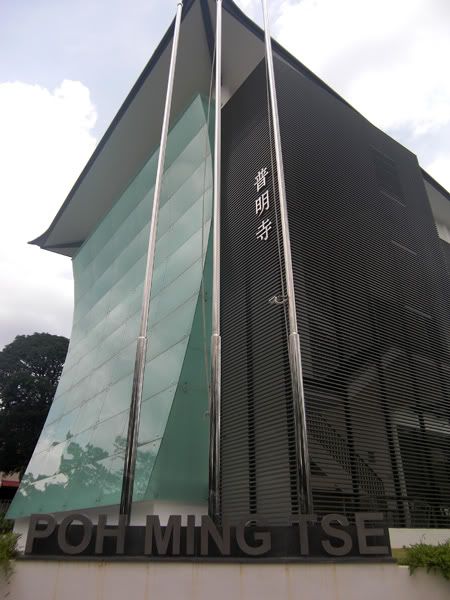 Here is how it looks like from the side. A few participants who came in for the first time also couldn't recognise it until they saw the name. Pretty cool~
As we walked up the steps into the temple, we noticed a cosy corner where visitors or participants can just rest and relax at the cafe at the temple entrance. In the coming days, our fellow retreat participants frequently spent their rest time sitting at the bench and enjoying the peace and nature the temple have to offer.
After we have signed in and 'surrendered' our handphones [bye bye iPhone :'-(], we proceeded onto our male dormitory. It feels pretty japanese zen like with tatami-mats. I brought my yoga-mat, sleeping bag and additional pillow along too so it's not too bad. It's air-conditioned with an all natural view from the end-window.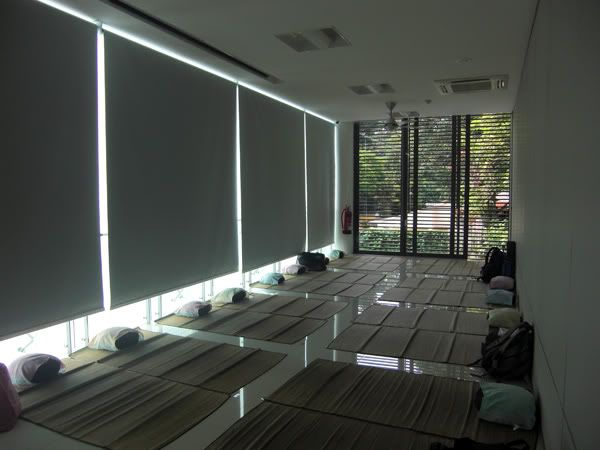 The male dormitory is at the second floor of the temple. Actually those are classrooms/meeting rooms converted to dormitory. The ladies occupy a much larger room. Off we go to the third floor where the main hall is.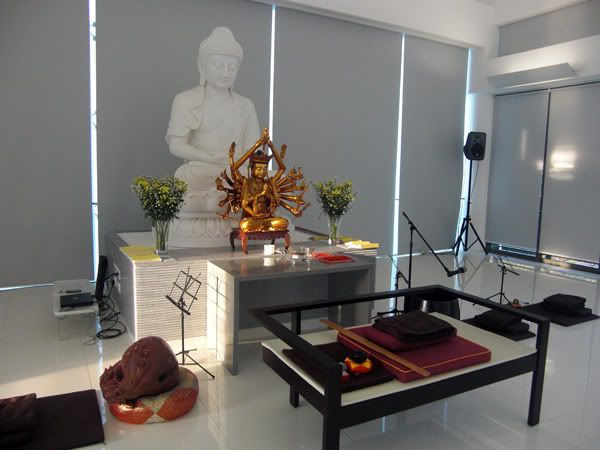 Noticed all the meditation cushions are laid out till the end of the hall. The retreat can accommodate up to 80 participants max. Ratio of ladies to guys is around 3 : 2.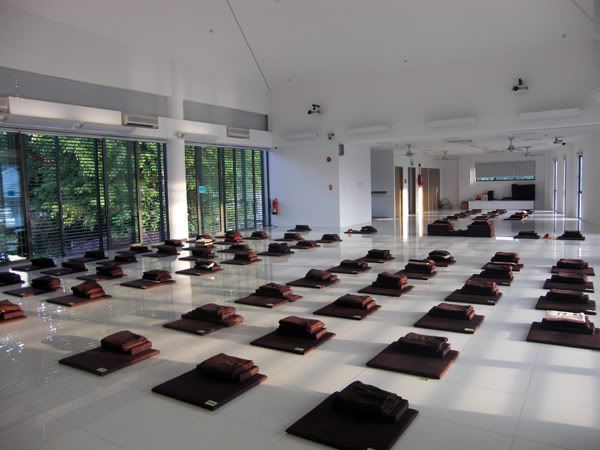 Here is a peek into the timetable. I didn't know about the schedule until the first day. Looks quite good actually. In the coming days, I will come to realize that this retreat is unlike those I have been to before. Here are the major differences:
1) Each meditation sitting is only 30minutes long. In between each sittings there is regular exercises like yoga or prostration.
2) The prayer sessions in the morning and afternoon is long (30 minutes) long.
3) There are 3 meals provided - breakfast, lunch and dinner.
4) We start each day with yoga and stretching exercises, with the Saturday morning having a outdoor exercise in the park.
5) There are regular talks by the teachers throughout the day.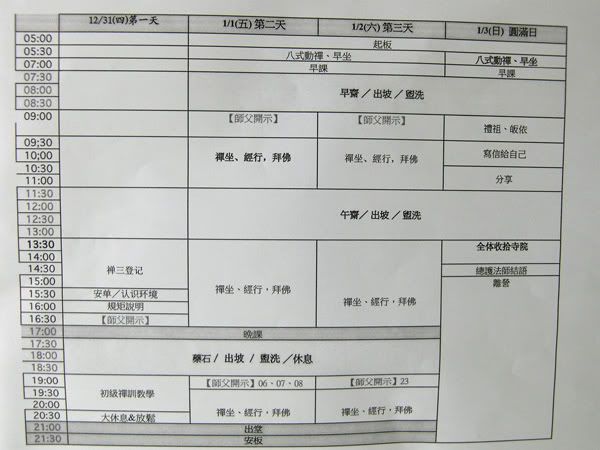 I will explain some chinese terms in there. 八式动禅 mean the 8 different yoga/stretching techniques we do in each morning after rise and shine. 出坡 means area-cleaning, for my side it's only for the afternoon session and we are in-charge of cleaning up the male dormitory. 药食 means dinner, normally a light one where we recuperate our body after a long day of exercise and meditation. It is also Noble Silence for the 3 days as can be read from the sign below.
We were taught 3 different meditation techniques, they are Breath meditation, Hua Tuo meditation and Mo Zhao meditation. Hua Tuo involves asking ourselves questions while Mo Zhao is to silently observe our mind.
Here is a sharing by two fellow participants on the techniques learnt in the retreat:

http://zenmindordinarymind.blogspot.com/2010/01/3-days-chan-retreat-conducted-by-guo-qi.html

http://learning-holistic-wellness.blogspot.com/2010/01/celebrating-2010-in-peace.html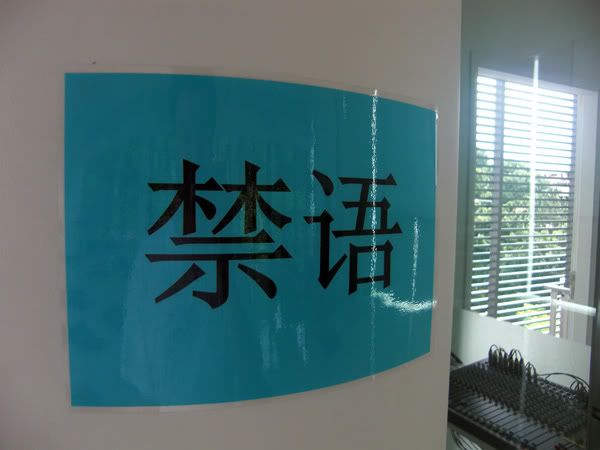 It is a very well-organised retreat and all the places are numbered. Our sleeping location, our meditation cushions, and even where we place our foot-wear. (as seen below).
During the first day we were taught the 8 different sitting postures and the 2 sleeping postures that is conducive for our sleep. Following these postures, our body will be very healthy. We were also taught that our breathe determines our state of health and how it changes throughout the day. It is fascinating to know more about body.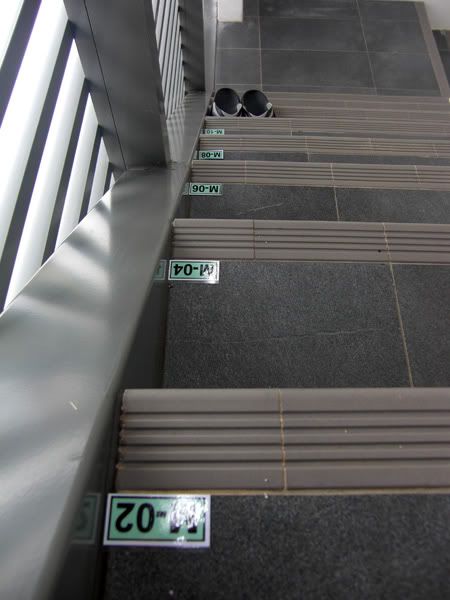 Here is a glance into our daily prayer booklet. This particular stanza caught my attention and I like it very much, so I took a photo of it below and share it with all. There is also this One Mantra Water Wheel which goes 'An Wan Wan Wan Wan Wan'. It's rhymes pretty well.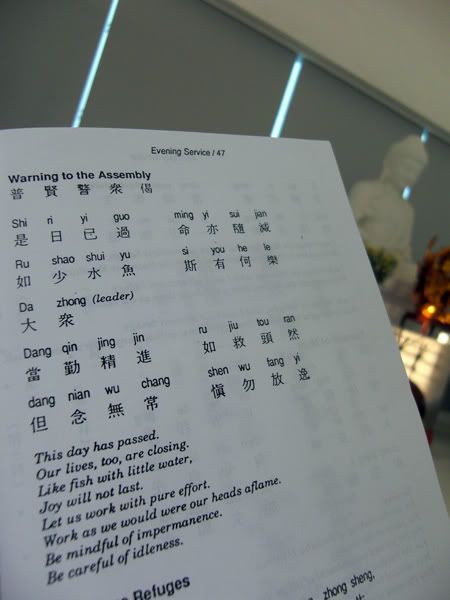 This mega-big drum is just right in front of where I'm sitting. The bass effect from it is simply amazing!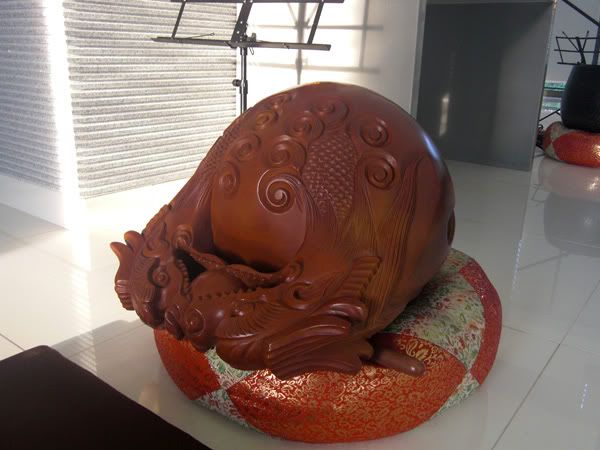 In between our activities, the teacher will use these instruments to signal the start or end of each session. The bell is one of them and also the zen stick (not shown in the picture).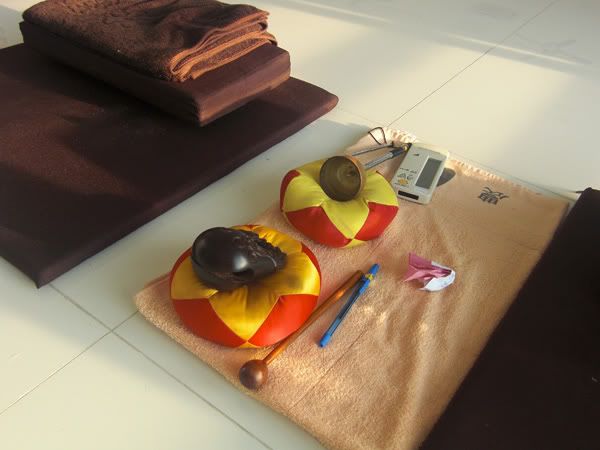 I managed to capture a photo of our meal session during the last day. On the sunday (03/01) afternoon, we had vegetarian curry. After chatting with fellow friends later, we agreed that the meals are just fabulous. We look forward to it all of it and have a tendency to go for multiple servings. (Hopefully I have not put on weight by going for multiple portions :P). The servings are buffet style.
Here is how our bowl, spoon and chopsticks looks like (all stainless steel and environmentally friendly).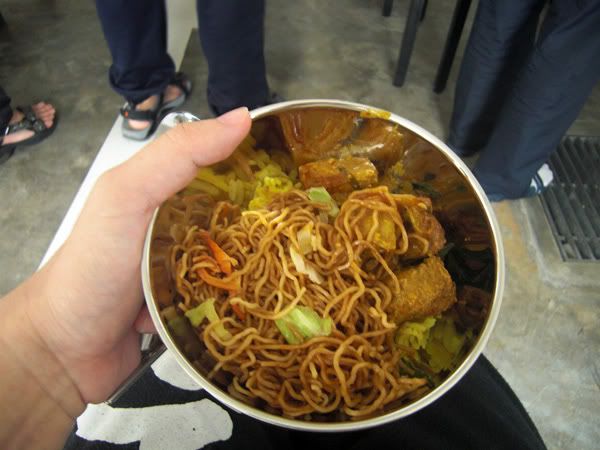 Here are some great scenes to share
a) Walking up the stairs after an afternoon meal.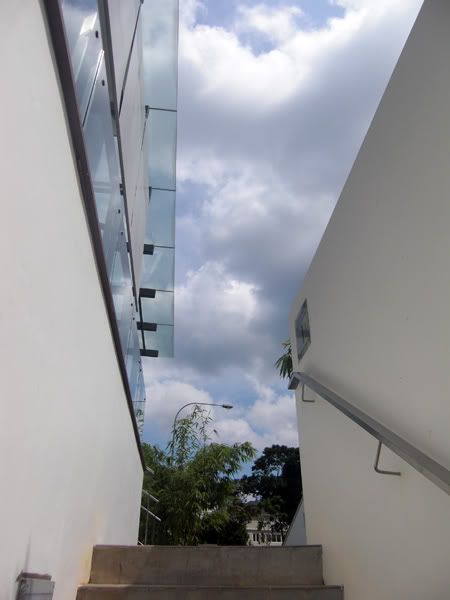 b) Meditating by the side of the window, overlooking mother nature.
One the Saturday morning at 6am, we had yoga and stretching exercise at the park (Bougainvillea Park) which is a 1 minute walk away from the temple; enjoying the morning air in the wee hours of the morning.
On our last day, we had small group sharing session. It is fun to finally be able to chat and share our experiences of the last 3 days. Thereafter there is group presentation and everyone have great laughs from the sharing. Common to retreats are sleepiness (wake up at 5am and sleep at 9.30pm) and the leg pains (as we are not used to sitting on the floor).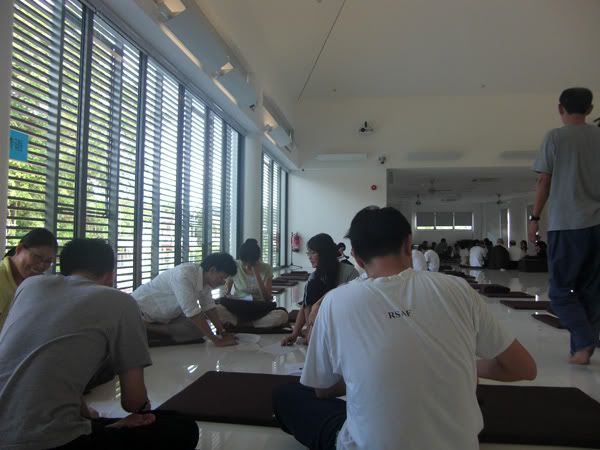 Here is a ad-hoc group photo of the retreat. (awaiting the official photo from Dharma Drum)
At the end of the retreat, HS and I took a bus down to Somerset. We also met a fellow practitioner on the bus and had a memorable chat until he got down at Newton Circus. After the 3-day retreat, it's quite interesting to visit Orchard and observe the vibrancy of city life. (I have to collect some stuffs from Somerset 313's Uniqlo.) One of the methods we have learnt in the retreat is Mo Zhao (默照禅) - to observe all the sights and sounds around while the mind is not affected by it. It is applied immediately the moment we arrived at Orchard. The feeling is just amazing, it appears we are living in a matrix-like world. An ordinary mind is always moving (drifting here and there), never stationary, always restless.
It's now time to apply what we have learnt over the 3-days into the coming new year!